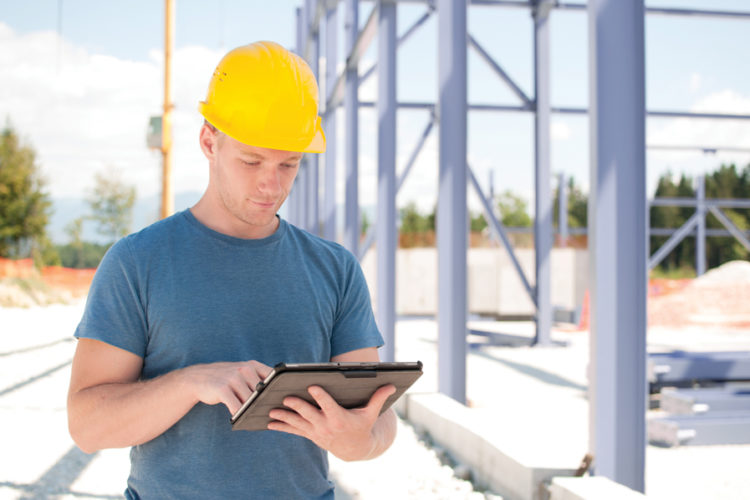 A "geek" image is not something most construction workers would want to cultivate. Nevertheless, some experts believe that augmented reality (AR) will soon become so ubiquitous that electronic headsets such as Microsoft HoloLens or Google Glass will be as standard on job sites as tablets and cell phones.
"There won't be a worker out there that doesn't have some augmented display that they wear," predicts Jason Cohen, Director of Digital Experiences at Toronto-based CAD Microsystems.
AR also called mixed reality, allows construction workers to see elements from 3D Building Information Modeling (BIM) models superimposed on their field of vision in the physical workspace. An electrician equipped with a holographic headset, for example, can see, in Star Wars fashion, exactly how the planned wiring will appear when installing correctly, and what that same area will look like once the piping has been established the following week.
When AR is fully implemented, Cohen explains, a construction job site will have a BIM-based digital twin that resembles the job site down to the exact detail. Headsets and other information collection devices will constantly update the model. If in the above example, the pipefitter had already completed his work ahead of schedule, the electrician would be aware of that, and any possible repercussions, before arriving at the job site.
This won't be just about visual information; workers will be able to talk — through interfaces like Apple Siri or Google Smart Speaker — with automated smart agents that "know" who the worker is, and what information is needed to do the job correctly.
This dynamic link between the model and the job site has the potential to increase the value that BIM can provide for contractors dramatically. "The real power here is that the flow of data is bi-directional in real time," says Cohen. "You're constantly providing information to help workers get their jobs done, and they're constantly sending important information to head office."
Moving forward with AR
While the technology is still in early stages, AR is already present on some job sites. "Some of this already exists," says Thomas Strong, Director, Virtual Design and Construction at Toronto-based EllisDon. "We already have the models, and we're storing them in the cloud, so they're accessible in the field. We're barcoding door frames so people can find themselves in the model."
"AR is no longer futuristic," says Clint Kissoon, Chair, School of Construction Management at Toronto-based George Brown College. "Contractors have already started using it. Now it's about exposure and the ability to show where this can be appropriately used."
The school now has a specialized BIM training program, and according to Kissoon, maintains a continuous dialogue with contractors and technology firms to understand the world that their graduates will be facing.
Acquiring AR capability involves integrating a variety of hardware and software components, many of which are the products of recent start-ups. "There are no one-size fits all," says Joe Eichenseer, Director, Building Lifecycle Solutions at Denver-based IT integrator IMGINiT. "It depends on your intended use, or how far on the bleeding edge you want to be."
EllisDon employs holographic headsets in some situations, and in others, apps that allow a worker to hold up a tablet and, using the device's gyroscope sensor, get a sense of what an installation should look like. The firm also uses various data collection methods, including periodic laser scans using Lidar devices, and photography and video gathered through smartphones. The latter is far less expensive, but not easy to integrate into the model.
"The trick will be to capture all the data in one place, and have an artificial intelligence system go to work extracting the information out of it," says Strong. "But the technology to bring that all together isn't all there yet. So to manage the result at this point, you have to have a person assigned to that task."
Finding a business case
Since AR is essentially an add-on to BIM, even the entry-level involves a significant investment in technology and expertise. This is particularly challenging for smaller firms.
"The larger contractors are very much aware of what it takes to adopt the technology at least," says Kissoon. "They have to because it's becoming a very competitive market. But in the supply chain, which includes a lot of SMEs, people are struggling."
Many of the advantages of AR, such as its ability to warn of potential conflicts, only exist when all partners in the building process have inputted their plans in digital 3D format, and the model is complete.
"If your model is missing the ductwork, and everyone else is coordinated in 3D, you don't have the certainty that that ductwork is going to fit," says Strong. "So you need everyone to represent their system. That's our challenge."
The most challenging part for many isn't investing in the technology or hiring people who know how to use it – it's able to apply the requisite technical know-how to the organization's established construction management processes.
"A firm is not going to get rid of their chief estimator and put in a young graduate who might be able to do things faster by using all the latest tools," says Kissoon. "What contractors are trying to do is get a young graduate who can work alongside a more senior person, and teach them how to use the new tools. But a lot of the senior people are not in a position to be able to learn that new technology."
The key is determining how the investment will pay off. "Contractors are never going to say 'it's great to see that, let's get one,'" says Kissoon. "They want to be able to (see) what value it brings to them."
Many of the advantages, however, such as avoiding clashes and improving workflow efficiency, are hard to quantify. On the other hand, some strong use-cases are emerging.
"In some areas, like inspections, verification in the field with AR is near immediate, so showing the ROI is quite easy," says Barry Kelly, Industry Manager, Public Works at Toronto-based GIS solutions provider Esri Canada.
"Reducing risk is huge," says Eichenseer. "If you're doing a renovation, the ability to overlay a proposed design on top of the existing structure has a lot of value. Does everything that is proposed feel like it fits? How confident are you in the design that's been handed over to you?"
AR is also being used to improve safety programs and make them more efficient – the two-way flow of information makes it easy for a safety officer to be aware of hazardous situations as they arise, and to instantly warn workers who might be in danger, or shut down a work area if necessary.
The way of the future?
AR is expected to be widely soon deployed in areas such as healthcare, education, manufacturing, and navigation, assuring that the technology will mature and prices will drop. However, AR requires a well-populated BIM database, and data collection — no matter how efficient the methods are — requires commitment from many players.
The problem is that in many cases, companies don't feel that there is enough incentive to participate. Architects and engineers, for example, complain that they aren't being paid to input all the required data to establish the model, and, as Kelly notes, models often don't get built on time, or at all.
Construction processes are also changing. In what is called the industrialization of construction, contractors are starting to pre-fabricate building components off-site in a controlled industrial environment, greatly simplifying the work that is done on-site.
"You do need to get better at managing that process of identifying problems and fixing them," says Strong, "but at the same time, getting better at building things offsite in large pieces and having them snap together will eliminate a lot of firefighting that has to occur on a job site. So we shouldn't focus too much on creating tools that make us better at reacting – I think the real focus should be on creating processes where we don't have to react to things."